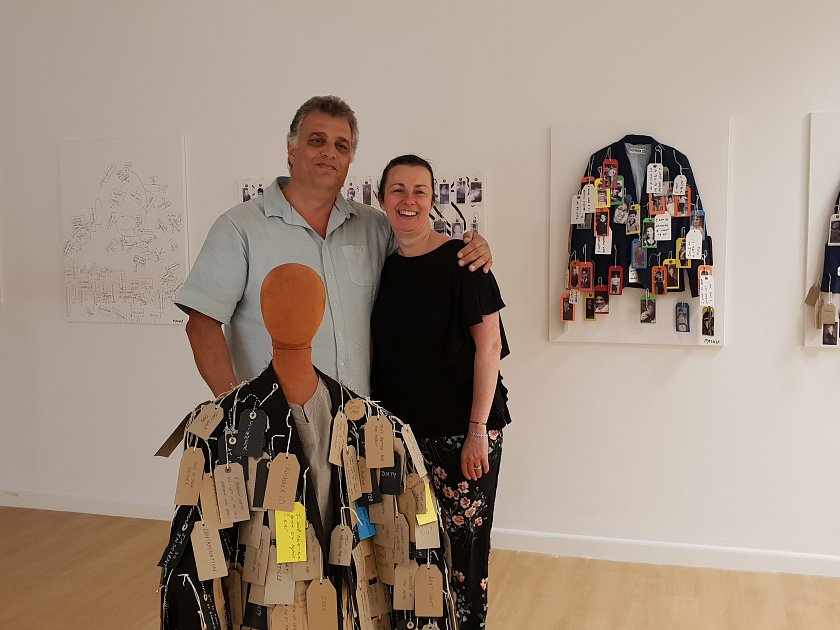 by Siobhan Maclean
30th Oct 2018
A PICTURE CAN PAINT A THOUSAND WORDS
I first met Paul Yusuf McCormack when he asked me to meet with him to talk about his story and finding ways to develop his voice. Paul is an inspirational man. His sense of self and his desire to support others struck me from our very first meeting. Since that first meeting Paul has become involved in the development of the SHARE model, attending the launch of the book to read some of his poetry and subsequently co-delivering some training sessions and workshops with me. Paul is care experienced and he expresses aspects of his experience very powerfully through art and spoken word. I don't want to tell you too much about Paul – because I want you to find out about Paul for yourself. You need to hear his voice. Follow him on twitter at @10PYusuf and watch out for anything he is doing. This photo was taken at his recent art exhibition "No Colours for My Coat". I went to see Paul's exhibition with Rosie, my daughter, just before she went off to University. We have enjoyed going to art exhibitions together many times in the last few years, but few have prompted so much discussion afterwards. Aspects of Paul's work focusses on the labels that he was given as a child in care and the way he has carried these with him throughout his life. Many of those labels were completely new to Rosie, she had never even heard some of the words. We reflected on this and the fact that even though some words have been effectively 'banned in polite society' the labels that are attached to some children now can be as powerfully undermining. Students just starting social work training now are the same age as Rosie – they need to 'hear' some of those words which they may never have heard. Most importantly they need the opportunity to reflect on how some of the words in common use now might be viewed in 30 years time.
Paul's work is very emotive. I have talked to him on many occasions about his story, his voice and his work and yet when I stood looking at one of his pictures whilst he read some of his spoken verse standing behind me, I was moved to tears. Paul's work should have a place in social work education. Research in America found that nursing students who had the opportunity to explore art as a part of the learning had improved observational and clinical diagnostic skills (ref). When Paul and I have shared his work with students and newly qualified social workers in workshops it has certainly enabled them to develop a more nuanced and compassionate understanding of peoples' stories. This is the kind of social work education I want to see.
If you get the chance to catch any aspect of Paul's work, then do – you will learn so much. If anyone with the power to support Paul to get his work out there more then please do let him (or me) know.