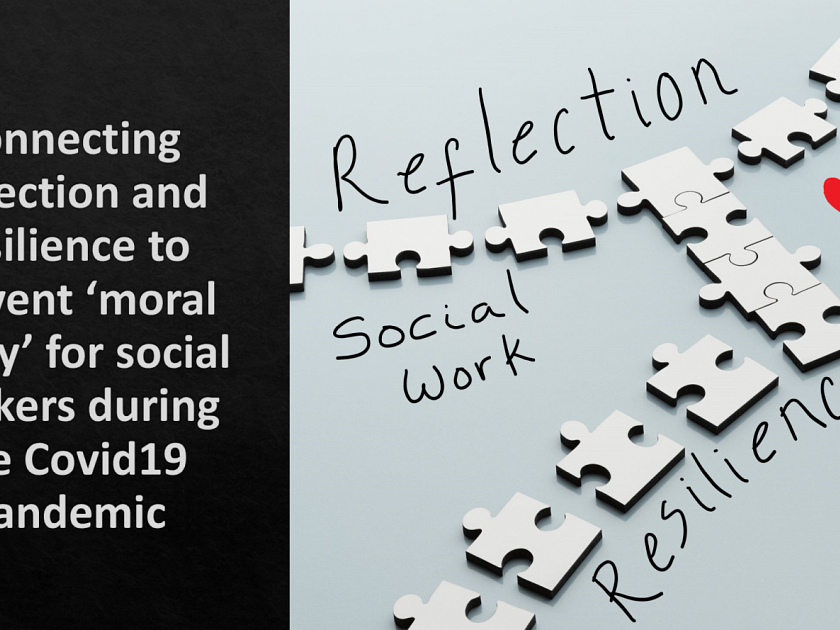 by Siobhan Maclean
13th May 2020
Connecting reflection and resilience to prevent 'moral injury' for social workers during the Covid19 Pandemic
I was really interested to read, early in the lockdown, an article about 'moral injury' in the British Medical Journal. Taken from the military, moral injury refers to the psychological distress that results from actions (or the lack of them) which violate someone's moral or ethical code. People who develop moral injuries are likely to experience negative thoughts about themselves or others and feelings of shame, guilt or disgust are common (Greenberg et al 2020). The article referred to the potential for significant moral injury for health care professionals during the pandemic, because they would need to:
· Think about how to allocate scant resources to equally 'needy' patients
· Balance their own physical and health care needs with those of their patients
· Make decisions about how to align their duty to patients with their duty to their own family network
As I read around this concept, it struck me that social workers are often caught in ethical dilemmas that could create 'moral injury', but that the likelihood of this had been exaggerated by new ways of working during the pandemic. So, I started to read more around the concept and consider what my response to this might be. I identified the following factors might mitigate the potential for 'injury':
· Team working and a strong community of practice
· A strong reflective culture
· Good quality emotionally supportive, reflective supervision
· In depth reflection with a particular focus on feelings and emotions
· 'Education' about the potential of moral injury and permission to talk about and explore the depth of the injury with colleagues
· Clear recognition of the importance of your work and value being placed upon this
In many ways our health colleagues have more of these in place than social workers at the present time. Certainly, the work of health colleagues has been at the forefront of the news, whilst the news has largely misrepresented and undervalued social work (nothing new there). Whilst I think that social workers are always vulnerable in some way to 'moral injury' the impact of the pandemic, current working practices and the lack of the mitigating factors in our practice have the potential to create an even deeper injury.
Social workers need to maintain firm work/life boundaries but working from home means that in many ways social work is now coming into our homes, lines and boundaries are becoming much more blurred and many practitioners are really struggling with this. With many social workers also trying to home school children, there are significant concerns about the professional and personal lives of workers blurring. I have a vivid memory of writing a report late at night many years ago, when my daughter was young. She must have been poorly or something and I sat with her on my knee, whilst also trying to finish the report which was due that day. I remember her asking me what something meant (she had just started reading) and I realised then that I could not continue to work on reports and recording with her in the same space. I have thought about that so much recently with many social workers trying to make calls and write reports whilst their own children are with them. What will be the long-term impact of that?
We know that social work can create vicarious trauma and secondary traumatic stress for practitioners and that this can in fact lead to burnout (Singer et al 2019). We have become used to listening to trauma and supporting people with this. However, the impact of the pandemic trauma means that we are listening to even more trauma and now we are listening to it in our own environments. You know that phrase 'do you remember where you were when you heard about….?' That recognises the connected relationship with hearing about trauma and space. When this is all over social workers might be in their homes, thinking about what they heard whilst sitting in that room, what they read about whilst at the kitchen table and so on. The potential for vicarious trauma will begin to seep into our personal spaces. As social workers we recognise the vital importance of space and place, but are we supporting practitioners with this? Whilst undertaking online meetings and supervision sessions, I have noted the number of people who are literally having to 'work' sitting on their beds. What impact is this having on sleep patterns?
The standard reflective spaces for social workers do not generally feature as part of current practice. Social workers report that their most common reflective space is the car, between visits, driving to and from home etc. Without that, where is our reflective space? I genuinely feel that employers have a responsibility to support social workers to create reflective spaces and emotionally safe working spaces in their home working environments.
Reflecting with colleagues is common for social workers, mulling ideas over in a team environment is important. We already know that this is affected by agile working (Puranam, Berger and Clement 2018), in the current situation the lack of reflective team conversations is even more striking. Social distancing could lead to a lack of reflective opportunities for practitioners. Simply listening to colleagues on the phone etc can help us to learn and certainly helps us to know when we need to offer support to one another. It is more difficult now to know when our colleagues need support. If a worker needs support, they have to initiate asking for it. In the case of moral injury, we know that people tend not to ask for help, when in fact the earlier the support the more effective it is.
An added concern for me has been the fast tracking of students through their final placements, or the amount of placement time students are spending working in relative isolation. Whilst I greatly value the contribution of students and newly qualified workers to the profession, I believe we have a particular commitment at this time to offer additional support and to create reflective spaces for those new to the profession. They have effectively missed out on much of the situated learning that takes place in social work team bases and in my view face an even more profound risk of 'moral injury'.
To address these concerns, I have adapted my own work in a range of ways:
· I am working with a number of local authorities to adapt ASYE workshops which I used to deliver face to face, into a virtual space. Bringing ASYE candidates together and offering a tailored model of support has been really positively received.
· I have worked with a longstanding colleague, Bridget Caffrey (Senior Lecturer University of Chester) to develop a model for online group supervision. We have developed a specific model, which we have called the University of Chester Connections model, addressing the issues of lack of reflective place and space, to promote reflective connections in a range of ways. This has been so well received in the local authority where we piloted the model that we are now continuing to run regular sessions in that authority.
· I am working with BASW to develop an online programme on reflection and analysis to replace a session I was due to deliver with BASW in June.
· I have been continuing to provide some of the training which was previously in my dairy, adapting delivery. I think that it is particularly important at this time to continue with sessions that were booked on reflection, and or supervision to look at how to adapt and connect both in the current pandemic.
Now, more than ever, is the time for us as a profession to truly explore the importance of reflection for practice and resilience, not simply for writing an assignment.
---
---
Greenberg, N., Docherty, M., Gnanapragasam, S. and Wessely, S. (2020) Managing mental health challenges faced by healthcare workers during Covid-19 Pandemic. British Medical Journal 2020;368:m1211
Puranam, P., Berger, R. and Clement, J. (2018) Why Agile May Be Fragile. Leadership and Organisations Knowledge Blog. Available online at https://knowledge.insead.edu/blog/insead-blog/why-agile-may-be-fragile-10201 Accessed 13.5.2020
Singer, J., Cummings, C., Moody, S.A., Benuto, L.T. (2019) Reducing burnout, vicarious trauma and secondary traumatic stress through investigating purpose in life in social workers. Journal of Social Work. Online June 5 2019. https://doi.org/10.1177%2F1468017319853057